From business cards and stationary to brochures and books, in one color and process color and everything in between- you'll discover a huge difference in our quality, service and price.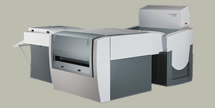 We also offer graphic design capabilities. From your newsletters, brochures, postcards, rack cards, booklets and more, Sumter Printing can be an integral asset to your marketing requirements. When it comes to the details-nobody comes closer!


Since being established in 1911, Sumter Printing Company Inc. has made giant leaps in innovation. Investments in printing technologies and upgrades have helped us to earn a reputation of standard setting excellence.